SOLIDWORKS performs a 'clean-up' with respect to the Assembly Mates Property Manager for 2021. Prior to the New Release, the Property Manager consisted of several expandable groupings for each Mate Type as well as other Mate Options. A single click of the downward facing arrow to the right of each Mate Type would activate options for Standard, Advanced, or Mechanical Mates. While Expanding one of these selections would automatically collapse another, i.e. only one viewable Mate Type at a time, SOLIDWORKS 2021 simplifies the User Interface (UI) by removing these selections from the expandable cluster and grouping these like items into tabs at the top of the Property Manager.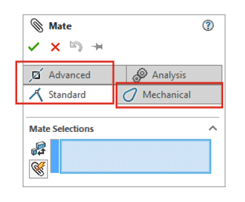 Further expanding into new improvements, SOLIDWORKS 2021 has added a very handy checkbox to the Slot Mate Options in the Property Manager. Users can now Lock rotation on the fly without adjusting slot orientation before fixing its position to achieve a 'Fully-Defined Sketch.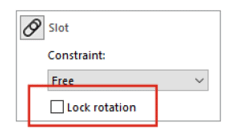 The desired lock positions for slot mates remain the same from previous versions in the Constraint drop-down. To select a default constraint type, navigate to Options > Document Properties > Mates where you can select an option for Default constraint under Slot Mates.

As always, SOLIDWORKS maintains the 'more than one way to skin a cat' approach so here are two additional ways the Lock Rotation feature is accessible.