The SOLIDWORKS Pipe and Tube Routing course explains how to create, edit and manage pipe and tube routes, from the critical routing components and their design requirements to the sub-assemblies that contain the routes.
Pipe skids and weldments are also briefly covered along with creating walkthrough animations of your pipe assemblies and plant.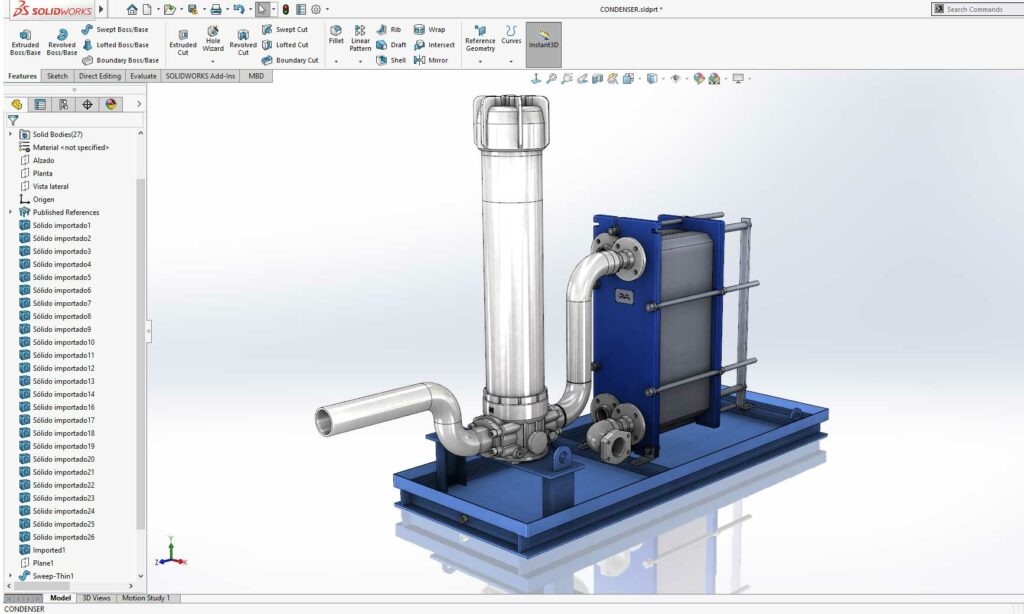 Objectifs:
SOLIDWORKS Routing – Piping and Tubing teaches how to use the Routing component included in SOLIDWORKS Premium to create pipes, as well as rigid and flexible tubing. Learn how to use libraries of flanges, tees, valves and reducers to flesh out a fluid route. Also covered is making detailed drawings with a list of components needed to run a route.
SOLIDWORKS ROUTING – PIPING AND TUBING TOPICS COVERED:
Fundamentals of Routing
Piping Routes
Piping Fittings
Tubing Routes
Piping and Tubing Changes
Creating Routing Components
Using P&ID Files
Electrical Ducting, Cable Tray, and HVAC Routes
Piping Skids
SOLIDWORKS ROUTING – PIPING AND TUBING Lessons:
Lesson 1: Fundamentals of Routing
What is Routing?
Routing Setup
Routing Library Manager
General Routing Settings
Lesson 2: Piping Routes
Pipes and Piping Components
Routing Assembly Templates
Creating a Piping Route
Auto Route
Route Specification Templates
Editing a Route
Lesson 3: Piping Fittings
Drag and Drop a Fitting
Creating Custom Fittings
Lesson 4: Tubing Routes
Tubes and Tubing Components
Flexible Tubing with Auto Route
Orthogonal Tubing Routes with Auto Route
Bend and Spline Errors
Starting a Tube Route On the Fly
Repairing Bend Errors
Tubing Drawings
Lesson 5: Piping and Tubing Changes
Pipe Penetrations
Flange to Flange Connections
Pipe Spools
Copying Routes
Editing Piping Routes
Editing for Obstructions
Piping Drawings
Lesson 6: Creating Routing Components
Routing Library Parts
Libraries
Creating Routing Library Parts
Routing Library Manager
Pipe and Tube Components
Fitting Components
Routing Functionality Points
Routing Geometry
Part Validity Check
Design Table Check
Component Attributes
Elbow Components
Multi-Body Components
Equipment
Assembly Fittings
Lesson 7: Using P&ID Files
Piping and Instrumentation
Adding a Pipe
Pipe with Multiple Lines
Pipes with In-line Fittings
Process Drawings
Lesson 8: Piping Skids
Piping Skids
Grid System Feature
Weldments
Walk-through Animations
Avatar Paths
| | | |
| --- | --- | --- |
| Audience | | Designers |
| Language | | English – French – Arabic |
| Prerequisites | | SOLIDWORKS Essentials or Certified SOLIDWORKS Associate (CSWA) |
| Duration | | 3 Days |
| Location | | On site – Online – Customer site |
| Software Version | | Training is based primarily on SolidWorks 2021. It is relevant to users of SolidWorks 2016 and later. |
| Level of training | | Advanced |