In this blog, we'll take a look at a few SOLIDWORKS Sketch Options that will make your work much easier and save you valuable time by reducing tedious clicks.
SOLIDWORKS Sketch Options
To access sketch options go to System Options > General > Sketch.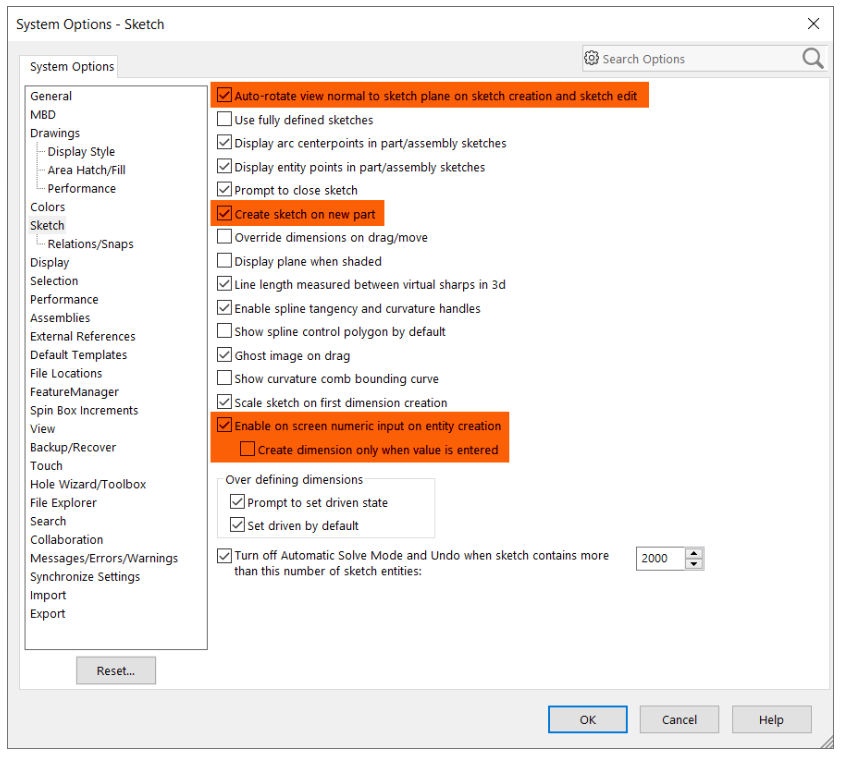 Auto-Rotate View
The first option is the Auto-Rotate View. Under options for sketching, you will find an option called Auto Rotate View Normal to Sketch Plane on Sketch Creation and Sketch Edit. This means whenever you're creating a new sketch or editing an existing sketch, the sketch will rotate normal to the screen. This is very convenient and useful if you're always reorienting your model.
Create Sketch on New Part
If you start a new part, activating this option will start you in Sketch mode in a Front plane by default. As you're designing parts, if you frequently find yourself creating that first sketch on the front plane, this is a great way to save you a few tedious clicks right out of the gate.
Enable On-Screen Numeric Input on Entity Creation
As you start to create geometry within your sketch, and before creating the sketch line, you can type in a value on the fly that is tied to the parameters not actually adding a dimension to it. We'll cover adding dimensions in the next option
Create Dimension Only When Value is Entered
Check the box for Create Dimension Only When Value is Entered. Now, when you sketch a line and type in a value, your dimension is added with your sketch line.