The SOLIDWORKS Drawings course focuses in-depth on creating and managing complex drawings of SOLIDWORKS models (parts and assemblies) using the ANSI or ISO standards.
You will learn how to quickly create and detail any type of drawing views, insert parametric Bill of Materials, Cut Lists or other parametric data tables, customize drawing sheets, and creating smart title blocks. A special lesson is dedicated to quick and easy management of large assembly drawings.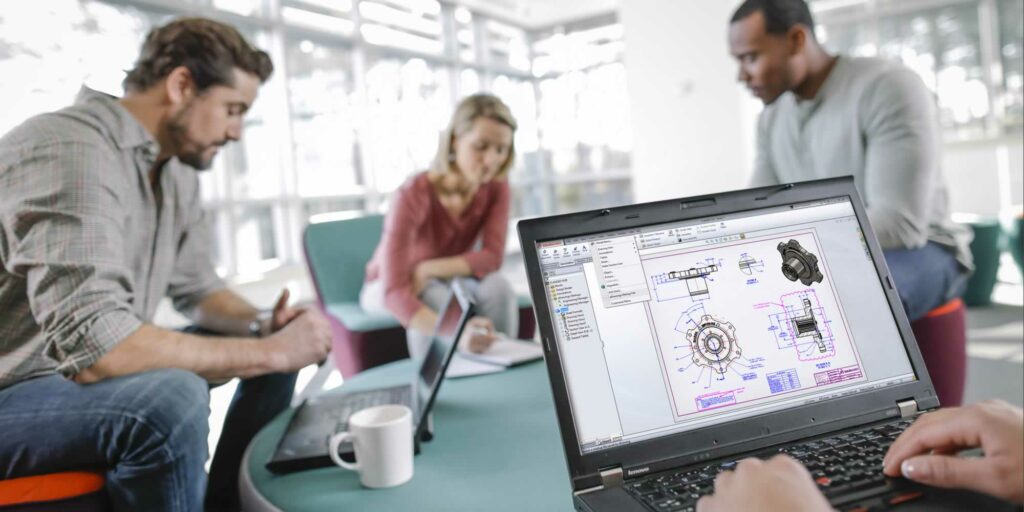 Objectifs:
This SOLIDWORKS training course teaches you how to make drawings of SOLIDWORKS parts and assemblies.
SOLIDWORKS DRAWINGS TOPICS COVERED:
Drawing Sheets and Views
Dimensions
Annotations
Assembly Drawing Views
Sheet Formats and Templates
Bill of Materials
Performance and Display Issues
Drawing References and Comparison
SOLIDWORKS Drawings Lessons :
Lesson 1: Review of the Basics
Review of Essentials
Drawing System Options
Beginning a New Drawing
View Palette and Model Views
Detailing Techniques

Importing Design Annotations
Using Model Items
Dimensions in Drawings

Section Views
Detail Views
Moving Drawing Views
Moving Dimensions
Center Marks & Centerlines
Assembly Drawing Review

Bill of Materials Tables
Adding Balloons

Adding Sheets
Lesson 2: Understanding Drawing Templates
Structure of a Drawing Document
Drawing Document
Drawing Sheet
Sheet Format
Understanding Drawing Templates

Why are Drawings Structured this Way?
Sheet Format Features
Notes Linked to Properties
Annotation Link Errors

Drawing Template Design Strategy
Designing a Drawing Template

Understanding Document Properties
Display Settings in Templates
Sheet Properties in Templates
Custom Properties in Templates
Save as Template
Defining Template Locations
Model Templates
Creating a Sample Model and Drawing
Lesson 3: Customizing the Sheet Format
Customize the Sheet Format

Completing the Title Block Sketch
Completing the Title Block Notes
Tips for Locating Notes
Adding a Company Logo
Defining the Border
Setting Anchors
Exit Edit Sheet Format Mode
Title Block Fields
Lesson 4: Saving and Testing the Sheet Format File
Understanding Sheet Format Properties
Understanding Sheet Format Behavior
Saving the Sheet Format
Reload Sheet Format
Defining Sheet Format Locations
Testing the Sheet Format
Testing Sheet Format Properties
Testing Default Values
Lesson 5: Additional Sheet Formats and Templates
Creating Additional Sheet Formats
Drawing Templates with Sheet Formats
Other Drawing Template Items
Property Tab Builder

The Property Tab Builder UI
Defining Property Tab Template Locations
Additional Property Tab Options

Properties.txt File
Lesson 6: Advanced Options for Drawing Views
Advanced Drawing Views
Showing Hidden Edges

Drawing View Properties Dialog

Broken-out Section View

Editing Broken-out Section Views

Auxiliary View
Rotating Views
Crop View
Understanding View Focus
Advanced Views for Assemblies
Section Scope
Alternate Position View

Editing Alternate Position Views

Using Configurations
Custom View Orientations
New View
Relative View
3D Drawing Views
Lesson 7: Understanding Annotation Views
Understanding Annotation Views

Understanding Annotation Behavior
What are Annotation Views?
Annotations Folder
Default Annotation Views
Annotations View Visibility
Insert Annotation View
Editing Annotation Views
Annotation Update
Lesson 8: Advanced Detailing Tools
Detailing Tools
Annotation Views vs Model Items

Using Annotation Views in Existing Drawing Views
Combining Annotation Views and Model Items

Parametric Notes
Dimension Types

Chamfer Dimension
Ordinate Dimensions
Ordinate Dimension Options
Baseline Dimensions
Baseline Dimension Alignment
Autodimension

Arranging Dimensions

Using Dimension Handles
Aligning Linear Diameter Dimensions

Dimension Styles

Styles in the Property Manager
Styles in the Dimension Palette
Annotations in the Design Library

Location Labels
Lesson 9: Advanced Options for BOM Tables
Tables in SOLIDWORKS
Bill of Materials Properties
Displaying the BOM Assembly Structure
Modifying a Table
Saving a Table Template
Properties in BOM Tables

BOM Quantity
BOM Part Numbers
Child Component Display

BOM Component Options
Balloon Indicator
Lesson 10: Additional SOLIDWORKS Tables
Additional SOLIDWORKS Tables
Inserting a Hole Table

Adjusting Hole Table Settings

Splitting a Table
Using a Revision Table
Leader Annotation Options
Design Tables in Drawings
| | | |
| --- | --- | --- |
| Audience | | Designers |
| Language | | English – French – Arabic |
| Prerequisites | | SOLIDWORKS Essentials or Certified SOLIDWORKS Associate (CSWA) |
| Duration | | 3 Days |
| Location | | On site – Online – Customer site |
| Software Version | | Training is based primarily on SolidWorks 2021. It is relevant to users of SolidWorks 2016 and later. |
| Level of training | | Beginner |