The Advanced Part Modeling course is for SOLIDWORKS users who need to create complex parts and want to learn how to use more advanced features; including sweeps, lofts, boundaries, and every type of fillet.
Also in the course are best practices for creating efficient parts including using Boolean operations in multibody parts in order to save time. Building master models for parametrically driving whole projects. Plus reverse-engineering complex models with sketch pictures.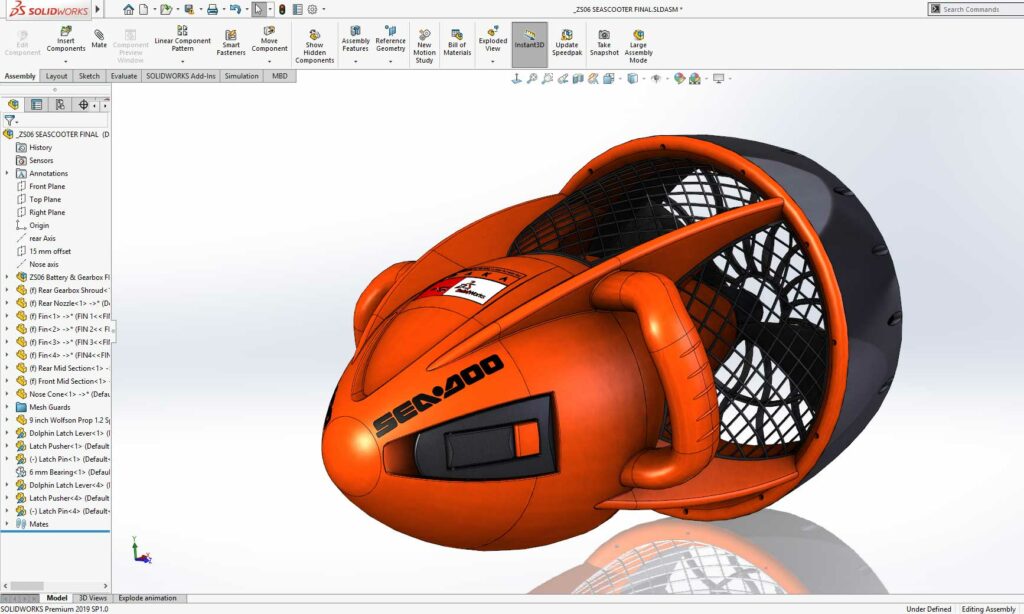 Objectifs:
SOLIDWORKS Advanced Part Modeling teaches you how to use multibody solids, sweeping and lofting features, and the more advanced shaping capabilities of SOLIDWORKS.
SOLIDWORKS ADVANCED PART MODELING TOPICS COVERED:
Multibody Design Techniques
Saving Solid Bodies
Sketching with Splines
Introduction to Sweeping
3D Sketching and Curve Features
Threads and Library Feature Parts
Advanced Sweeping
Introduction to Loft and Boundary Features
Advanced Loft and Boundary Features
Advanced Filleting and Other Features
SOLIDWORKS Advanced Part Modeling Lessons :
Lesson 1: Multibody Design Techniques
Multibody Parts
Hide/Show Tree Items
Multibody Design Techniques

Creating a Multibody
Merge Result

Case Study: Multibody Design
Solid Bodies Folder
Local Operations
Feature Scope
Patterning Bodies
Tool Body Technique

Using Insert Part
External References
Entities to Transfer
Locate Part and Move/Copy Bodies

Combining Bodies
Case Study: Protective Screen
Intersect with Solid Bodies
Case Study: Bowl

Calculating Internal Volume

Indent Feature
Case Study: Indent
Deleting Solid Bodies
Lesson 2: Saving Solid Bodies
Multibody Part vs Assembly
Saving Bodies Functions
Case Study: Clamp
Insert into New Part
Save Bodies
Case Study: Boat Cleat
Modeling for Rapid Tooling
Splitting a Part into Multiple Bodies
Case Study: Handle
Automating an Assembly
Case Study: Using Split Part with Legacy Data
Lesson 3: Sketching with Splines
Curves in Sketches
Using Sketch Pictures
Case Study: Guitar Body
Splines

Standard Spline
Keep it Simple
Creating and Manipulating Splines
Anatomy of a Spline
Spline Tools

Adding Spline Relations

Spline Handle Basics
Spline Handle Relations

Changing the Shape of a Spline

The Control Polygon
Manipulating the Spline Handles

Fully Defining Splines
Evaluating Splines

Spline Evaluation Tools
What is Curvature?
Evaluating Curve Quality using Curvature Combs
Spline Parameters
Other Spline Modification Tools

Case Study: Two Point Spline

Equal Curvature and Torsion Continuity
Evaluating Continuity with Curvature Combs

Analyzing Solid Geometry

Display Curvature
Zebra Stripes
Surface Curvature Combs

Case Study: Torsion Continuity
Style Spline
Case Study: Watering Can Handle

Style Spline Types
Style Spline Tools

Fit Spline
Case Study: Coffee Cup

Fit Spline Parameters
Fit Spline Tolerance
Splines Summary
Lesson 4: Introduction to Sweeping
Sweeping
Case Study: Faux Raised Panel Door
Sweep with Guide Curves
Case Study: Bottle Body

Pierce Relation
Showing Intermediate Sections
Multi-thickness Shell

The SelectionManager
Case Study: Hanger Bracket
Lesson 5: 3D Sketching and Curve Features
Curve Features
Case Study: Spring
Sweeping Along a 3D Path
3D Sketching

Using Reference Planes
Additional Techniques
Space Handle
Subset of Sketch Entities and Relations

Helix Curve
Creating a 3D Curve from Orthogonal Views
Projected Curve Feature
Combining Curves
Smoothing Transitions
Lesson 6: Threads and Library Feature Parts
Bottle Features
Case Study: Modeling Threads

Thread Feature
Thread Profile

Saving a Library Feature Part
Performance Considerations

Performance Settings in System Options
Performance Settings in Document Properties
Suppressing Features
Using the Freeze Bar

Case Study: Adding the Label Outline

Designing a Library Feature Part
Library Feature File Locations
Anatomy of a Library Feature Part
File Explorer
Dissolve Library Feature

Creating the Sweep Path
Sweeping Along Model Edges

Propagate Along Tangent Edges
Lesson 7: Advanced Sweeping
Sweep Options
Additional Sweep Settings
Profile Orientation

Intermediate Sections
Follow Path
Keep Normal Constant

Case Study: Keep Normal Constant
Intersection Curve Feature
Visualizing Sweep Sections

Face Curves
Controlling Twist

Case Study: Controlling Twist
Case Study: Controlling Twist with Guide Curves
Case Study: Align with End Faces

Sweeping Along Non-tangent Edges

Solid Profile
Case Study: Drill Bit
Lesson 8: Introduction to Loft and Boundary Features
Comparing Complex Features
How Lofting and Boundary Work
Case Study: Defroster Vent
Loft Feature

Preparation of the Profiles
Merge Tangent Faces
Start and End Constraints

Boundary Feature

Boundary with Surfaces
SelectionManager in Loft and Boundary

Case Study: Lofted Merge
Case Study: Reusing Sketches
Copying a Sketch
Modify Sketch
Derived Sketches
Boundary Preview Options
Sketch Block and Library Feature Profiles
Lesson 9: Advanced Loft and Boundary Features
Additional Curves in Loft and Boundary
Centerline Lofting
Case Study: Heat Shield
Loft Preview Options
Adding Sketch Segments
Cleaning Up a Model
Delete Face Feature
Evaluating Edges
Face Fillets
Case Study: Hook

Planning a Modeling Strategy

Curve Influence
Lesson 10: Advanced Filleting and Other Features
Fillet Settings
Fillet Parameters

Fillet Method
Fillet Profile

Constant Size Fillets

Multiple Radius
Setback Parameters

Delete Face: Delete and Fill
Partial Edge Parameters
Fillet Options

Select Through Faces
Keep Features
Round Corners
Overflow Options

Variable Size Fillets

Variable Size Control Points
Variable Size Fillet Profile
Straight and Smooth Transitions
Zero Radius Values

Face Fillets

Curvature Continuous Fillets
Radial or Chord Width Definition
Hold Lines

FilletXpert
Other Advanced Features
Wrap Feature
Deform Feature

Point Deformation
Curve to Curve Deformation
Surface Push Deformation
Joining Surfaces
Knit Surface Feature

Direct Editing
| | | |
| --- | --- | --- |
| Audience | | Designers |
| Language | | English – French – Arabic |
| Prerequisites | | SOLIDWORKS Essentials or Certified SOLIDWORKS Associate (CSWA) |
| Duration | | 3 Days |
| Location | | On site – Online – Customer site |
| Software Version | | Training is based primarily on SolidWorks 2021. It is relevant to users of SolidWorks 2016 and later. |
| Level of training | | Advanced |