The SOLIDWORKS Assemblies training course is a must for anyone who creates or uses assemblies in their SOLIDWORKS designs.
You will learn how to parametrically relate different components in the context of an assembly, master the art of creating and managing all types of mates, save time designing complex mechanisms, create multiple variations of your design, perform quick selections of components, and become confident working fast with large assemblies.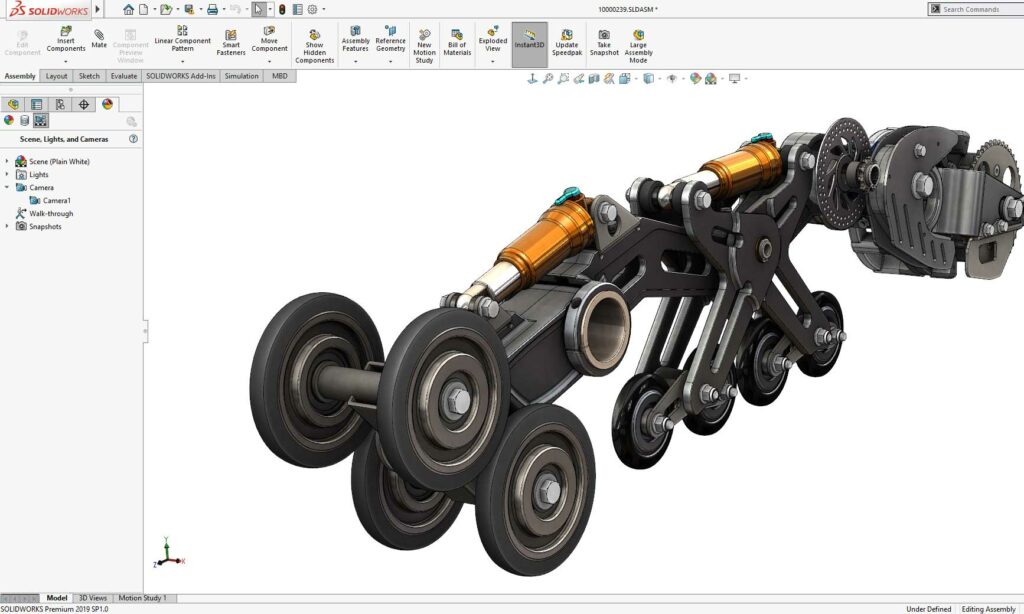 Objectifs:
SOLIDWORKS Assembly Modeling you will expand on assembly topics discussed in Essentials. It also introduces more advanced assembly techniques, like in-context design. These techniques all you to maximize your use of the assembly modeling capabilities on SOLIDWORKS.
SOLIDWORKS ASSEMBLY MODELING TOPICS COVERED:
Advanced Mate Techniques
Top-Down Assembly Modeling
Assembly Features, Smart Fasteners, and Smart Components
Assembly Editing
Using Configurations with Assemblies
Display States and Appearances
Large Assemblies
Facility Layout
Using SOLIDWORKS Treehouse
SOLIDWORKS Assembly Modeling Lessons :
Lesson 1: Advanced Mate Techniques
SOLIDWORKS Assemblies
Assembly File Structure

FeatureManager Design Tree
Opening Assemblies

File References
File Reference Example
Solving Mates

Subassembly Mates
Find References
Update Holders

Advanced Mate Techniques
Case Study: Mate Shortcuts

SmartMate while Adding Components
SmartMate Cursor Feedback
SmartMates from Within the Assembly

Mate References
Design Library Parts
Capture Mate References
Multiple Selection Mate References
Multiple Mate Mode
Driven Mates
Using Misaligned Mates
Copying Multiple Components
Case Study: Copy With Mates

Using Copy with Mates
Copy with Mate Options
Investigating the Mates

Fixed Components
Summary: Inserting and Mating Components

Adding Components
Copying Components
Inserting and Mating Simultaneously
Mating Existing Components
Selection Aids

Advanced Mate Features
Case Study: Advanced Mate Features

The Belt / Chain Assembly Feature
Slot Mate Constraints

Profile Center Mate

Valid Faces for Profile Center

Rack Pinion Mate
Lesson 2: Top-Down Assembly Modeling
Top-Down Assembly Modeling
Stages in the Process
Making Changes to Dimensions
Case Study: Editing and Building In-context
Adding Features In-context

Indicators of Edit Component
Appearance of Components While Editing

Inserting a New Part into an Assembly

Locating the New Part Component
Virtual Parts

Building In-context Features

Common Tools
Working Outside the Assembly

Propagating Changes
Saving Virtual Parts as External86

In-Context Features
Update Holders

External References

Component Level Symbols
Feature Level Symbols
Out of Context
Putting a Part Back Into Context

Breaking and Locking External References

External References
External Reference Report

Assembly Design Intent
SOLIDWORKS File Utilities
Removing External References

Why Remove External References?
Editing to Remove References
Lesson 3: Assembly Features and Smart Components
Assembly Features and Smart Fasteners
Case Study: Assembly Features
Assembly Features

Special Cases
Standard Assembly Features

Hole Series

Time-Dependent Features
Hole Series with an Existing Hole

Smart Fasteners

Fastener Defaults
Smart Fasteners Settings
Hole Series Components
Changes to Existing Fasteners

Smart Components
Case Study: Smart Component

Make Smart Component
Inserting the Smart Component
Inserting Smart Features
Using Multiple Features and Components
Using Auto Size

Flexible Components

Flexible Part Source
Making a Part Flexible
Editing Flexible Components

Extruded Cut Assembly Feature
Lesson 4: Assembly Editing
Assembly Editing
Key Topics

Editing Activities
Design Changes
Finding and Repairing Problems
Information From an Assembly

Case Study: Assembly Editing

Component and Mate Level Errors

Mate Errors

Over Defined Mates and Components
Finding an Over Defining Mate
MateXpert
Grouping Mates

Replacing and Modifying Components

Working in a Multi-user Environment
Replacing a Single Instance
Mated Entities

Converting Parts and Assemblies

Parts into Assemblies
Assemblies into Parts
Parts into Parts
Replacing Parts with Assemblies
Defeature

Replacing Components Using Save As
Reloading Components
Component Patterns

Pattern Instances
Linear and Circular Patterns
Linear Pattern and Rotate
Pattern Driven Component Pattern
Chain Pattern
Mirroring Components
Lesson 5: Using Configurations with Assemblies
Using Configurations with Assemblies
Case Study: Assembly Configurations
Creating Configurations Manually
Configuration Properties
Using the Modify Configurations Dialog
Changing Configurations using the Context Toolbar

Saving Configurations
Information from an Assembly

Managing the Tree Display
Assembly Evaluation Tools
Case Study: Hole Alignment

Introducing: Hole Alignment

Controlling Dimensions in an Assembly

Global Variables
Assembly Equations
Dimension Names in an Assembly
Adding Equations

Creating an Equality
Equations with Functions
Comments
Sensors

Sensor Types and Alerts
Dimension Sensor
Dimension
Proximity Sensors

Using the Mate Controller
Lesson 6: Display States and Appearances
Display States

Stored Display States
Display States vs Configurations
Display Pane
Display Pane Icons

Bulk Selection Tools

Using Selections
Selection Methods
Adding Display States
Renaming Display States
Copying a Display State
Display State Toolbar

Case Study: Display States

Previewing Hidden Components
Configurations and Display States
Linked Display States

Advanced Select
Envelopes
Appearances, Materials and Scenes

Appearances Menu
Using RealView Graphics
Changing Scenes

Case Study: Appearances and Materials

Modifying Texture Maps
Materials
Lesson 7: Large Assemblies
Large Assemblies
Key Topics
Assembly Modes

Resolved
Lightweight
Large Design Review

Assembly Visualization

Visualization Properties
Elements of the Assembly Visualization Interface
Editing and Adding Columns

Lightweight Components

Opening Lightweight Components
After the Assembly is Open
Indicators of Lightweight Status
Best Practice
Comparison of Component States

Large Assembly Mode
Case Study: Large Assembly Options
Using SpeedPak

SpeedPak from the ConfigurationManager
SpeedPak from Top Level Assembly

Using Simplified Configurations

Suppressing Components
Simplified Configurations
Simplify
Advanced Open Options

Defeature
Modifying the Structure of an Assembly

Dissolving a Sub-assembly
Creating a New Subassembly with Components
Promoting and Demoting Components
Flexible Subassemblies
Using Folders

Envelope Publisher
Large Design Review

Edit Assembly Mode
Selective Open

Comparison of Modes and Methods
Tips for Faster Assemblies

Appearance and Views
Set Options
Mate Considerations

Drawing Considerations
| | | |
| --- | --- | --- |
| Audience | | Designers |
| Language | | English – French – Arabic |
| Prerequisites | | SOLIDWORKS Essentials or Certified SOLIDWORKS Associate (CSWA) |
| Duration | | 3 Days |
| Location | | On site – Online – Customer site |
| Software Version | | Training is based primarily on SolidWorks 2021. It is relevant to users of SolidWorks 2016 and later. |
| Level of training | | Advanced |