The SOLIDWORKS Sheet Metal course is designed for users who need to learn how to model sheet metal parts that will be manufactured using a variety of forming processes.
You will learn how to build complex sheet metal models (standalone or multibody) by using the various flange features, or converting solid bodies directly into sheet metal parts. The course will also teach you how to apply forming tools, create flat patterns, and how to detail parts in a drawing.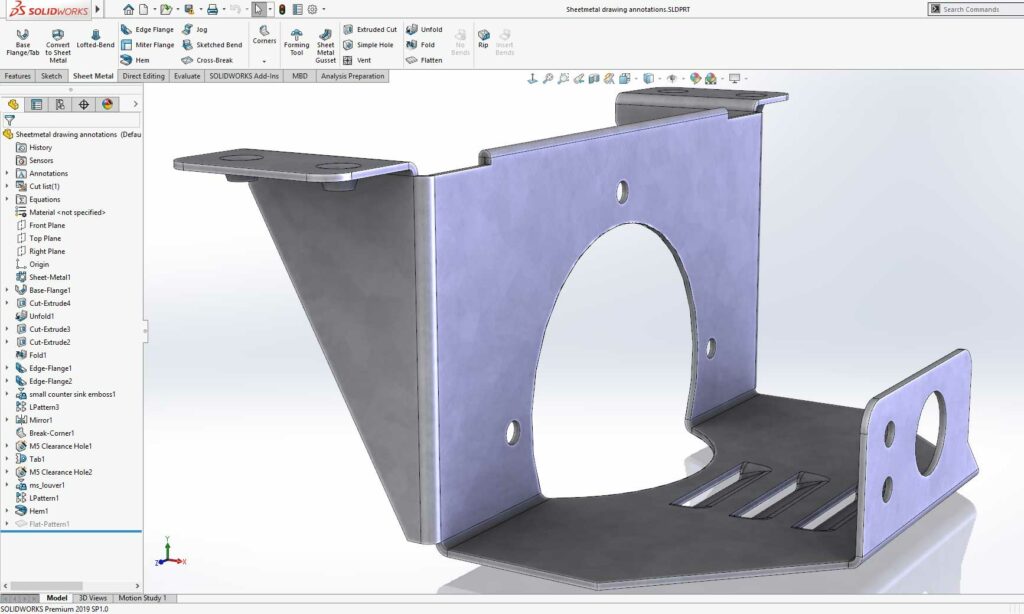 Objectifs:
SOLIDWORKS Sheet Metal teaches you how to build sheet metal parts using SOLIDWORKS. Building standalone sheet metal parts, converting parts to sheet metal, and modeling sheet metal parts in the context of an assembly are all topics that are covered in this course.
SOLIDWORKS SHEET METAL TOPICS COVERED:
Basic Flange Features
Working with the Flat Pattern
Additional Sheet Metal Techniques
Converting to Sheet Metal
Multibody Sheet Metal Parts
Forming Tools and Gussets
Additional Sheet Metal Functions
SOLIDWORKS Sheetmetal Lessons :
Lesson 1: Basic Flange Features
What are Sheet Metal Parts?
Sheet Metal Methods
Unique Sheet Metal Items
Flange Method
Base Flange/Tab
Sheet Metal Parameters

What is Bend Allowance?
Using Tables

Editing Sheet Metal Parameters
Sheet Metal Bend Features
Flat-Pattern Feature

Flatten and Exit Flatten
Toggle Flat Display

Additional Flange Features
Edge Flanges
Editing the Flange Profile
Edge Flanges on Curved Edges
Miter Flanges
Hem Feature
Tab Features
Cuts in Sheet Metal
Summary of Flange Features
Lesson 2: Working with the Flat Pattern
Working with the Flat Pattern
Flat Pattern Settings
Features for Manufacture
Corner-Trim Feature
Corners in the Formed State
Closed Corner
Corner Relief
Break Corner/Corner Trim
Producing the Flat Pattern
Sheet Metal Cut List Properties

Accessing Cut List Properties

Flat Pattern Drawing Views
Flat Pattern View Properties
Drawing Document Properties
Sheet Metal Tables
Cut List Properties as a Note
Exporting the Flat Pattern
Lesson 3: Additional Sheet Metal Techniques
Additional Sheet Metal Methods
Designing from the Flat
Sketched Bend Feature
Jog Feature
Adding Features in an Unfolded State
Unfold and Fold

Creating Cuts in the Flat Pattern

Swept Flange
Swept Flange Flat Pattern Options
Lofted Bends

Bent Lofted Bends
Bent Bend Region Options
Formed Lofted Bends
Formed Bend Region Options

Lofted Bends in the Design Library
Lesson 4: Converting to Sheet Metal
Sheet Metal Conversion
Insert Bends Method
Imported Geometry to Sheet Metal
Adding Rips
Insert Bends

Associated Features
Switching Between States

Making Changes
Welded Corner
Converting Cones and Cylinders
Convert to Sheet Metal

Convert to Sheet Metal Settings
Using Rip Sketches
Lesson 5: Multibody Sheet Metal Parts
Multibody Sheet Metal Parts

Tools to Create Multibody Sheet Metal Parts

Multibodies with Base Flange
Sheet Metal Parameters for Multibodies

Solid Body Feature History

Cut List Item Properties for Multibodies
Flat Pattern Drawing Views for Multibodies
Cut List Balloon Annotations
Exporting to DXF/DWGs with Multibodies
Convert with Multibodies
Hiding and Showing Bodies

Hide and Show
Hide/Show Bodies
Isolate

The Display Pane
Using Split with Sheet Metal Parts
Patterning for Multibodies
Using Edge Flanges to Merge Bodies
Interfering Bodies
Combining Sheet Metal with Other Bodies

Assigning Materials to Bodies
Lesson 6: Forming Tools and Gussets
Sheet Metal Forming Tools

How They Work
Types of Forming Tools

Standard Forming Tools

The Forming Tools Folder
Using a Standard Forming Tool
Form Tool Feature Settings

Form Tool Features in the Flat
Part Document Properties
Custom Forming Tools
Split Line
Forming Tool
Form Tools in Drawings

Punch Tables and Punch ID

Sheet Metal Gusset
Lesson 7: Additional Sheet Metal Functions
Additional Sheet Metal Functions
Cross-Breaks
Vent Features
Mirror Part
Tab and Slot
Process Plans
Sheet Metal Costing
| | | |
| --- | --- | --- |
| Audience | | Designers |
| Language | | English – French – Arabic |
| Prerequisites | | SOLIDWORKS Essentials or Certified SOLIDWORKS Associate (CSWA) |
| Duration | | 2 Days |
| Location | | On site – Online – Customer site |
| Software Version | | Training is based primarily on SolidWorks 2021. It is relevant to users of SolidWorks 2016 and later. |
| Level of training | | Advanced |