The SOLIDWORKS Weldments course is for users who design structures made out of components with constant profiles. The course will teach you how to use the weldment tools which can provide you with a 90% time saving when compared to the traditional assembly work flows.
The knowledge you will gain can be applied to various applications such as welded structures, wood decks, fences, stairs or railings. As a bonus, using Weldments allows you to rapidly analyze very large structures with much lower computational resources using SOLIDWORKS Simulation.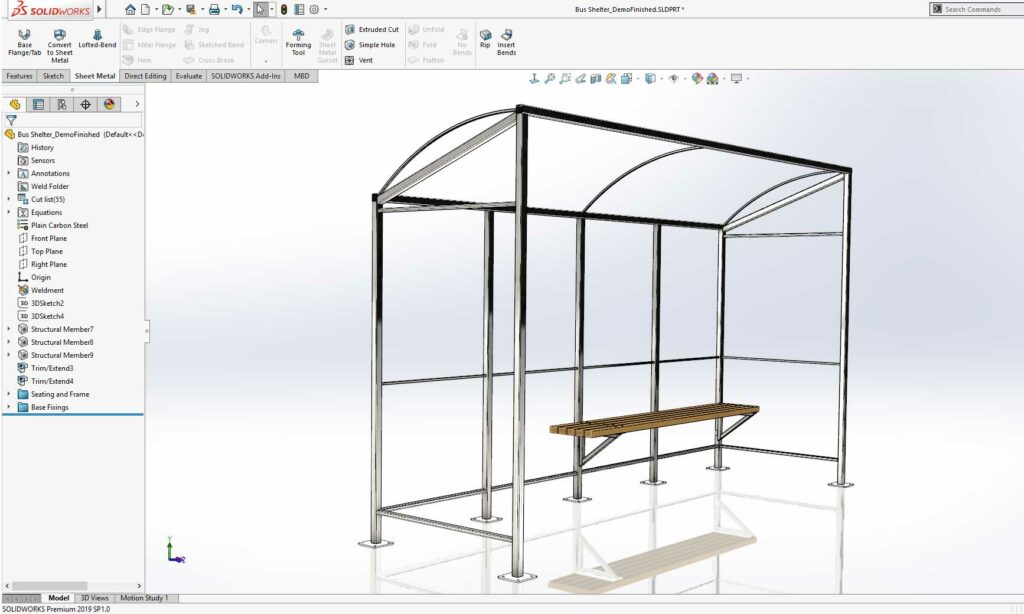 Objectifs:
SOLIDWORKS Weldments teaches you how to create welded structures with standard structural members. Creating custom structural members and modeling weld beads are additional topics that are covered.
SOLIDWORKS WELDMENTS TOPICS COVERED:
Weldment Features
Working with Weldments
Configuring and Detailing Weldments
Working with Bent Structural Members
SOLIDWORKS WELDMENTS Lessons:
Lesson 1: Weldment Features
Weldments

Weldment Feature
Weldment Configuration Options

Structural Members

The Default Profiles
Weldment Profiles from SOLIDWORKS Content
What is a Structural Member Profile?
Inserting Structural Member
Weldment Profiles Folder Structure
Groups
Corner Treatment Options
Individual Corner Treatments
Profile Position Settings

Groups vs Structural Members

Trim/Extend Options
Sketch Considerations
Trim Order

Adding Plates and Holes
Gussets and End Caps

Gusset Profile and Thickness
Locating the Gusset
End Cap Parameters

Using Symmetry
Advantages of a Multibody Part
Limitations of a Multibody Part
Lesson 2: Working with Weldments
Managing the Cut List
Cut List Item Names
Accessing Properties
Cut-List Properties Dialog
Structural Member Properties
Adding Cut List Properties
Bounding Boxes in Weldments
Options for Generating Cut List Items

Manually Managing Cut List Items
Creating Sub-weldments
Using Selection Filters

Custom Structural Member Profiles

Modifying a Profile
Transferred Information from Profiles

Defining Material
Creating Custom Profiles
Standard or Configured Profiles
Inserting Existing Parts

Locate Part and Move/Copy Body

When to Use an Assembly
Lesson 3: Configuring and Detailing Weldments
Weldment Configurations
Post-Assembly Machining Features
Weldment Drawings
Drawing Views of Individual Bodies

Select Drawing View Bodies
Using Display States
Isolate
Using Relative View
Cut List Tables

Representing Welds

Weld Symbols
Other Weld Annotations
Fillet Beads
Weld Bead Feature
Weld Tables
Lesson 4: Working with Bent Structural Members
Working with Bent Structural Members
3D Sketching

Using Reference Planes
Space Handle
Subset of Sketch Entities and Relations
Creating a 3D Sketch Plane
Active Planes
Visibility controls
Merge Arc Segment Bodies
Optional: Finishing Details
| | | |
| --- | --- | --- |
| Audience | | Designers |
| Language | | English – French – Arabic |
| Prerequisites | | SOLIDWORKS Essentials or Certified SOLIDWORKS Associate (CSWA) |
| Duration | | 2 Days |
| Location | | On site – Online – Customer site |
| Software Version | | Training is based primarily on SolidWorks 2021. It is relevant to users of SolidWorks 2016 and later. |
| Level of training | | Advanced |