The majority of the controls to manipulate the 3D View may be accessed via mouse action, including the PowerWheel, and through the VIEW tab user interface.
Rotating the 3D View :
The Rotation of the model is achieved by holding the middle mouse button down and moving the mouse in a direction. By default, the rotation mode is set about the Model.
The centre of rotation is determined when the button is pressed. Its position is set where the crosshair touches an element in the 3D View. The centre of rotation will be indicated by a pink pin.
At AVEVA E3D 3.1 the model may be rotated a complete 360 degree rotation.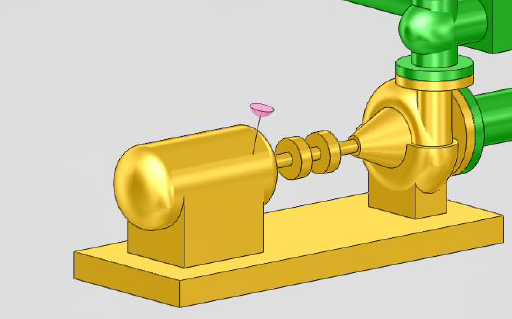 Walk & Fly Modes :
In addition to the classic View Controls, the Walk and Fly Modes allow the user to visualise the 3D Model from a moving observer point of view and in perspective mode (with a 90-degree field of view). These functions are ideally suited for the navigation of the laser environment on activating the HyperBubble™.

To activate or deactivate the modes, the Walk Mode or the Fly Mode toggles can be selected from the Control group of the VIEW tab.
When Laser models are displayed, enabling the Walk or Fly Modes will activate the HyperBubble™ / Solid Point Cloud mode for a increased rendering of the laser data.
In addition to mouse interactions, AVEVA E3D 3.1 introduces the ability to use the arrow keys to walk through the model. The following controls are available:
Up Arrow Move forward.
Down Arrow Move backward.
Left Arrow Move left.
Right Arrow Move right.