A number of Model operations may be initiated and controlled through the use of the PowerWheel, invoked by right-clicking within the 3D View in AVEVA E3D DESIGN.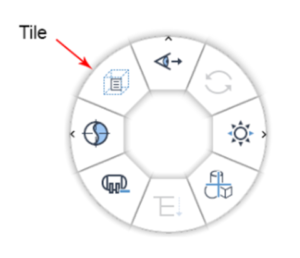 A function is selected from the PowerWheel by a left-click on the required tile– this may prompt a secondary PowerWheel for refined selection. For instance:
Selecting the View Direction tile from the primary PowerWheel prompts a secondary PowerWheel to specify the direction of the 3D View
Alternatively:
By clicking and holding the right mouse button , the required tile can be indicated by moving the cursor in the appropriate direction
The selection is confirmed byreleasing the mouse button
The direction of selection is aided by an indicating line
On selection of the required option in the primary PowerWheel, the action may be repeated for selection in the secondary PowerWheel
This operation will be referred as a gesture in following sections.

As an extension to the primary PowerWheel:
Pressing the Ctrl key or clicking the right mouse button prompts an alternative layout with general functions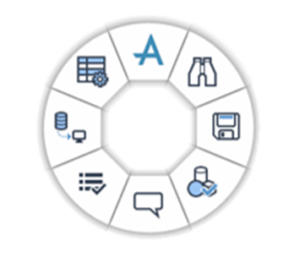 The PowerWheel may also be used in context during a modelling action. On performing an action, to specify points in the 3D View:
The PowerWheel can be used to pick object snaps by right clicking while holding the Shift key
This PowerWheel allows the user to filter one specific object snap temporarily for the current action.